Here's What You Need to Know About "Celebration of Smiles" — PPACH's National Charitable Marketing

Promotion Set for April 2, 2016: Get Started NOW!
FREE to all PPA members to participate in the April 2 Celebration of Smiles charitable marketing promotion that invites consumers to receive the gift of a mini-session and a 5×7 desk-size image in exchange for a minimum donation of $24 to Operation Smile. Choose another day (or days) in April if April 2 does not work for you.
When You Register . . .
You'll receive the Celebration of Smiles Marketing Guide that takes you step-by-step through how to market, prepare for and execute your promotion.
You'll have access to downloadable promotional elements and materials to help you market to your clients and prospects.
Your studio information and website link will be placed on the www.celebrationofsmiles.com consumer website.
Starting in March, you'll receive weekly "countdown" emails so you'll stay on track with marketing and operating your promotion.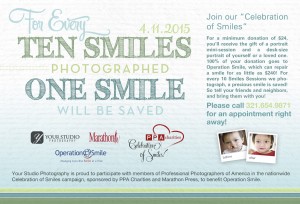 Exclusive Benefits of Participation
Gain access to special offers from PPA vendors
Enter the PPA Charities Portrait Awards – open only to Celebration of Smiles participants
Win great prizes!
Lots more information to come . . .
Best of all . . .
You will gain the personal satisfaction of standing together with like-minded professionals to make the world a better place through the art of photography!
To register for Celebration of Smiles 2016 Go Here.
To submit your Celebration of Smiles 2016 Collections, click here