Become a VIP!
(Vendor in Partnership)with PPA Charities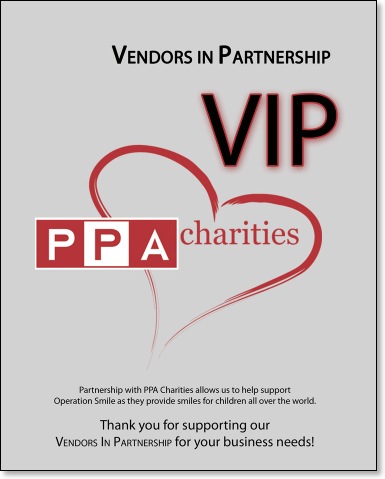 PPA Charity's VIP vendor-recognition program stands for "Vendors in Partnership" with PPA Charities. Its purpose is to encourage PPA vendors to join with PPA Charities in creating a larger community of philanthropy that will reflect positively on themselves, the organization, and the industry at large. It recognizes those PPA-member vendors that donate $500 or more annually to PPA Charities to help the organization meet its annual financial goals. Participating vendors are provided with logo and signage for use in identifying them as PPA Charities VIPs as well as listed in the annual Donor Report, which is published on this website at the beginning of each new year.


To help create a win-win situation for both PPA Charities and PPA vendors, PPACH sponsors "The 1% Difference" campaign for vendors who wish to spotlight a single product or category of products for which 1% of annual sales will be donated to PPA Charities to assist us in supporting Operation Smile. PPA Charities will include these offers on ppacharities.com, and vendors are urged to advertise the products on their individual websites.
If your company wishes to propose any other types of cooperative ventures, please contact Bert Behnke at (708) 267-0657 or bbehnke@ppa.com.
Heartfelt thanks go out to our PPA Charities VIPs!