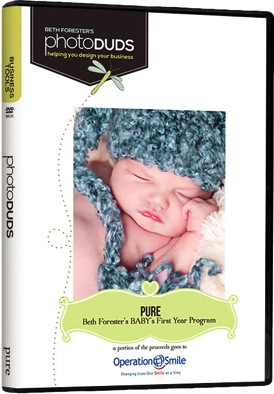 PPA Charities will benefit when you purchase Beth Forester's "PURE" Baby's First Year Plan! PhotoDUDS' Beth Forester has pledged to donate 1% of this product's sales to PPA Charities, with a minimum of $500 pledged.
This proven business plan Is available to you in fully customizable templates, with all the professional designing and copywriting complete and ready for you to launch your very own successful Baby's First Year Program.
This comprehensive turnkey set has all the materials you need to educate your clients about what you expect and what to wear for each of their sessions. Plus, it has a complete pricing plan with promotional materials for many of the most popular products purchased throughout the year.
To learn more or to order, contact Beth at 304/369.1443 or beth@foresterphoto.com