How Can My Business Benefit From Becoming a PPA Charities Operation Smile Studio?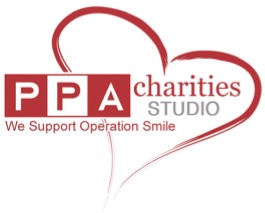 Most successful studios employ one or more charitable marketing strategies in support of worthwhile causes. Why? Here are some important benefits of becoming a PPA Charities Studio that supports Operation Smile:
Your participation and identity as a PPACH Operation Smile Studio will proclaim to your clients that you are part of an international commitment by PPA Charities to support the life-changing work of Operation Smile, the highly regarded Norfolk, Virginia, charity that provides the gift of surgery to precious children suffering from facial deformities. Many consumers simply prefer to shop with a business that gives back to the community.
You will become part of a network of PPACH Operation Smile Studios that actively shares fundraising ideas through

this website.
You will experience personal satisfaction from giving your time and talent to those in need, as you make a verifiable difference in the lives of needy children. This is possible because PPA Charities combines your studio's donations with those of other studios throughout the country, thus increasing your charitable power.

For each $240 donation you make to PPA Charities on behalf of Operation Smile in 2013, you will be entered into a drawing for a once-in-a-lifetime opportunity to photograph an Operation Smile mission. The drawing will take place on January 11, 2014, at the annual PPA Charities Celebration in Phoenix, the evening before the start of PPA's Imaging USA convention. To read the heartwarming narratives and view images made by PPA photographers on previous Operation Smile medical missions,

click here

.

How do I become a PPA Charities
Operation Smile Studio?
PPA-member studios that make an annual minimum donation of $240 to PPA Charities can use the PPACH Operation Smile Studio identity in their consumer marketing.
$240 is the cost of a single surgery performed by the volunteer medical professionals of Operation Smile, the charitable partner of PPA Charities.
PPACH Operation Smile Studios can raise funds for their donations at any time of the year through charitable marketing activities or through their own personal donations.
To make your Operation Smile Studio Donation, click here.

Once you donate and register, you can download 2013 Operation Smile Studio identity materials, and your business will be listed on the "Find Your Photographer" page of PPACH's consumer site www.saveasmile.org. You also will receive the periodic Keeping In Touch PPACH Operation Smile Studio eNewsletter.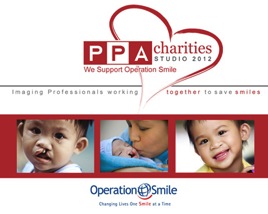 Easy ways to raise funds for Operation Smile
Donate a portion of each sale to benefit Operation Smile.


Send your donations to PPA Charities as often as you can so that everyone can watch the ppacharities.com home page Smile Counter increase. Make sure that all donations for 2013 are received by December 15, 2013.

Offer a Halloween costume fund-raising event for Operation Smile.


Use your blog, Facebook page, Twitter or your studio's eNewsletter to advertise a Halloween special for children in which all proceeds from a low-cost "quick-take" session of children in their Halloween costumes go to Operation Smile.

Sell "Smile Cards" as a year-round purchase add-on to benefit Operation Smile.


Find more information and a card template by clicking here.

Host a "Day of Smiles" in your studio.


Advertise a one-day opportunity for a basic session, with all proceeds going to Operation Smile.

Offer a $240 retail specialty item through the year to benefit Operation Smile.


Pick a specific product, such as a photo jewelry piece or a portrait with frame, then at the sales session inform clients that all proceeds from this item will benefit Operation Smile.

Offer $240 gift certificates to benefit Operation Smile.


Try offering a $240 gift certificate for $200 as a blog or Facebook special for the first 5 callers.

Join with local businesses to host an event to benefit Operation Smile.